ATI managed a significant comeback late last year with the 3000 Radeon series of cards especially the 3870X2, 3870, and 3850. Performance increased dramatically able to compete with nVidia, price, and power consumption. But Nvidia has come back first with the 9800 GTX then the incredibly expensive GTX 280.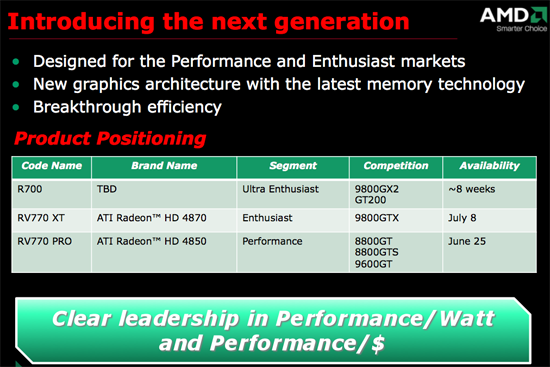 And what does AMD have to bounce right back but the brand new Radeon HD 4850 launching today and in a few weeks the Radeon HD 4870 which should topple the GeForce 9800 GTX.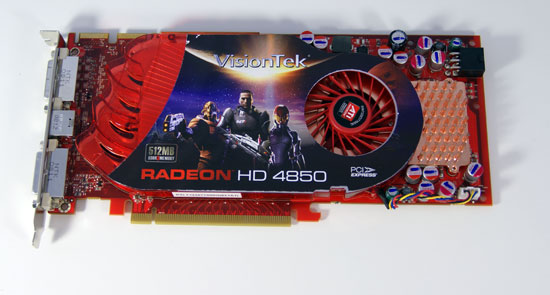 The Radeon HD 4850 is a second generation 55nm Radeon product and the 4000 series brings some amazing gains in stream processor count and efficiency. Based on the RV770 GPU, this card will have:
800 unified stream processors.
256 bits memory width with GDDR3.
It supports DX10.1 and SM 4.1.
There will be an improved unified video decoder.
The HDMI comes with 7.1 HD audio and it supports advance PowerPlay.
The GPU clocks at 625MHz and memory will be 512MB of GDDR3 at 1GHz.
The MSRP for the Radeon HD 4850 will be $199.
Performance wise, this card is really a killer. It run faster than most 8800 or 9800 class of nVidia cards. In CrossFire mode, it even outperform a 9800GX2.
Links:
Radeon HD 4850 Review Posted at AMDZone
AMD 4-series at TweakTown
PowerColor Radeon HD 4850 Intro Review at OCWorkBench
ATI Radeon HD 4850 Preview at AnandTech
A first look at the Radeon HD 4850 at TechReport
ATI Radeon HD 4800 Graphics Architecture: Long Anticipated Revenge? at X-bit Labs
ATI Radeon HD 4850: Smarter by Design? at Tom's Hardware