AMD decided to brand the RD790 as 790FX. This suggests that 790FX was originally intended for Phenom FX processors. AMD's chipset with integrated graphics, will be named 780G (successor of the 690G).
Summary:
AMD 790FX - Dual PCIe x16 CrossFire support + 3, 4 way CrossFire
AMD 790X - Dual PCIe x8 CrossFire support
AMD 780G - Single channel PCIe x16 + integrated DX10 graphics
AMD 770 - Single channel PCIe x16
The Register
has posted some information about MSI's new motherboard based on the AMD 790FX chipset (formerly RD790). The board is designated as the K9A2 Platinum.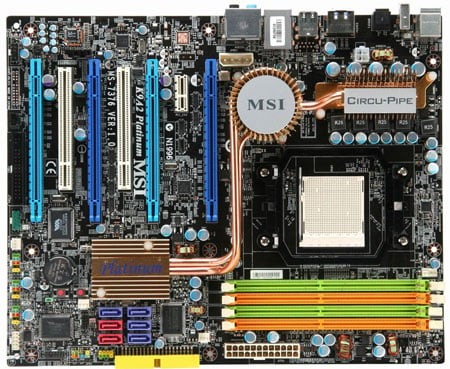 The Inquirer
reports
that AMD's 790FX chipset will only gobble up 8 watts of power. Compared to Nvidia's latest that is 40 watts less. That is pretty amazing if true.
In a battle of high-end chipsets - the Nforce 780 versus 790FX - it will be interesting to see how the MCP+BR04 (48W TDP) battles against the RD790 NorthBridge. This eats only 8W and is a native PCIe 2.0 chip. This is a 40W difference And even when Southbridge chips are calculated, ATI's own RD790+SB600 (later SB700) combination is a winner for low-power systems.
Nvidia's C72 and MCP72 come with king-size coolers, over 5cm in height - it has to dissipate 48W.
This small thing left of CPU cooler, below Digital PWM (Nvidia still uses old analogue 4/8-Phase voltage regulation) is an 8W TDP chip - the RD790 Northbridge.